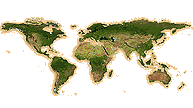 We're a wholesaler of diverse products. We primarily sell to retailers, though we have occasional retail events and we're always happy to talk to teachers.
Since 1993, Forests of the World has imported and distributed fairly-traded products made by people living in and around endangered forests worldwide. We have worked hard over the years to offer some of the most exquisite natural handmade crafts from some of the most spectacularly beautiful places in the world.
When you buy any product from us, you can be sure that:
It was produced in an environmentally responsible and sustainable manner, and:
The artisans are receiving a "living wage," benefits, and healthy working conditions.
We hope that someday this will be true of all companies that import products from around the world.
We work with our suppliers to help them market their products. We also donate a portion of our revenues to nursery and reforestation projects, research on sustainable development, and environmental education.

Forest ecosystems are critically important to all of us, and they are gravely threatened all over the world. Local communities sometimes feel they have no choice but to cut down the forests in order to survive themselves. We see another solution. [more...]